About Andrew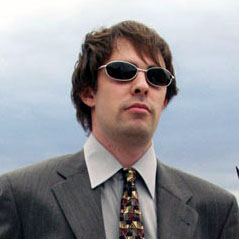 The Basics
Currently, I am in limbo between getting a JD degree and becoming a lawyer, in Brooklyn, NY. This site is a weblog about life in Brooklyn, music, web links, miscellany and shameless self promotion.
Why a blog
A blog is a useful excuse to research and learn about random topics, as a place to keep track of links, and post photos.
Professional Interests
I graduated from Brooklyn Law School in 2005. My main academic and professional interests are focused on how computers and the internet affect the practice and substance of law, particularly within the copyright, trademark and privacy (generally, internet and intellectual property law.) I blog about these issues at IPTablog and Legislating IP.
Geek Cred
Having your own domain isn't enough any more? If not, then I've got nothing.
Music
I play saxophone and keyboards in The Bosch. The new album "Buy One, Get One" will be released in September 2005.
Education
I graduated from Brooklyn Law School in 2005. I graduated from Tufts University in 2000, where I majored in International Relations and Russian & East European Studies. I studied in Moscow in the fall of 1998. I graduated from Tenafly High School in 1996.