Taxi Confidential
June 28, 2004
Taking a taxi for the first time since the fare hike last month, I was shocked at the cost. Both rides I took this weekend-- one between Brooklyn and Manhattan and the other between Williamsburg and Brooklyn Heights-- cost nearly 50% more than prior to the fare increase.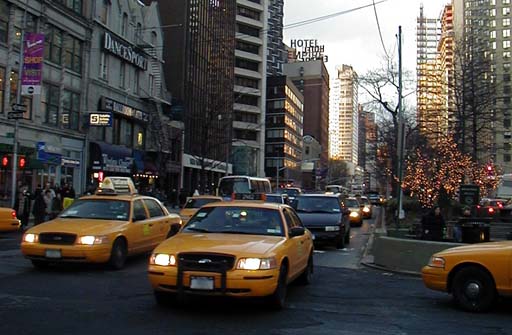 Gothamist covered the fare hike when it happened: Taxi Fares Go Up Today and The Taxi Fare Increase After 10 Days. Gotham Gazette analyzed the Taxi Fare Hike. New Yorkish looks into the future, all the way to: New York in 20 years
Taxi Blog gives a driver's perspective on the new fares: "Overall, drivers will end up consistently making more. By October. I fully expect this summer to be a disaster, business-wise."
If taxi rides weren't a luxury before, they certainly are now and make the $70 Metrocard seem like a great deal.
Of course, the subway is becoming more interesting every day (if interesting means dangerous.)
Posted by Andrew Raff at June 28, 2004 11:18 PM

Trackback URL for this entry: http://www.andrewraff.com/mt/mt-tb.cgi/2475