Thunk
November 8, 2005
There is something very satisfying about voting on New York's vintage lever voting machines. Pulling the lever to record the vote is a large tactile movement that really feels like you've done something to contribute to the democratic process. This may have been the last time New Yorkers vote using the old lever machines.
The Help America Vote Act requires all states to transition to replace punch card and mechanical voting machines with optical scan or direct recording (DRE) machines by 2006. While there is a slightly greater likelihood of a vote being recorded accurately in an optical scan voting system than on a lever system, lever systems may be more accurate than DRE systems. See this 2001 Caltech/MIT report: Residual Votes Attributable to Technology: An Assessment of the Reliability of Existing Voting Equipment.
Learn more about the upcoming shift in voting technology in the last segment of today's Brian Lehrer Show.
It appears that e-voting machines in Ohio exhibited problems yet again this year: Day Begins With Vote Machines Problems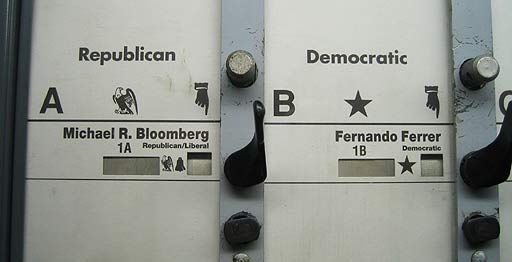 /a>
Posted by Andrew Raff at November 8, 2005 09:10 PM

Trackback URL for this entry: http://www.andrewraff.com/mt/mt-tb.cgi/3736